DARKBLOCK EXPLAINER VIDEO
My first true foray into creative directing a hybrid animation and boy, was it a wild one! This was a really tricky project because not only was Darkblock not an easy concept to explain and visualize, half way through our production, we also decided to juice up the animation by changing it from a fully 2D designed one to a hybrid style. This meant deciding which frames to cut and remodel in 3D, having to rethink transitions and how everything would look cohesive together, and dealing with a completely different pipeline. Being previously unexperienced at directing such a workflow, and having limited resources, I definitely struggled. But at the end of the day, I'm pretty happy with how it turned out!

After experiencing it firsthand, I now have infinite respect for CDs that not only have to deal with coming up with the big creative ideas and leading artists, but needing to manage every other part of the production with all its unexpected curveballs too. WHEW. What a learning experience! :')


Check out Darkblock here!
Role: Creative + Art + Animation Direction, Lead 2D Design, Storyboards
Year: 2022
Select styleframes that I created, some of which became 3D!
PROCESS | PROBLEMS & SOLUTIONS | DIRECTIONS
LIGHTING
We had several different 3D artists working on the design and the animation, and as they were versed in different renderers (Redshift and Octane), the lighting became inconsistent and renders became less than ideal as they were passed from one person to another. I had to do paintovers on the frames for our final 3D artist to refer to to ensure that the lights did what they were supposed to, and that elements and shots did not look murky overall.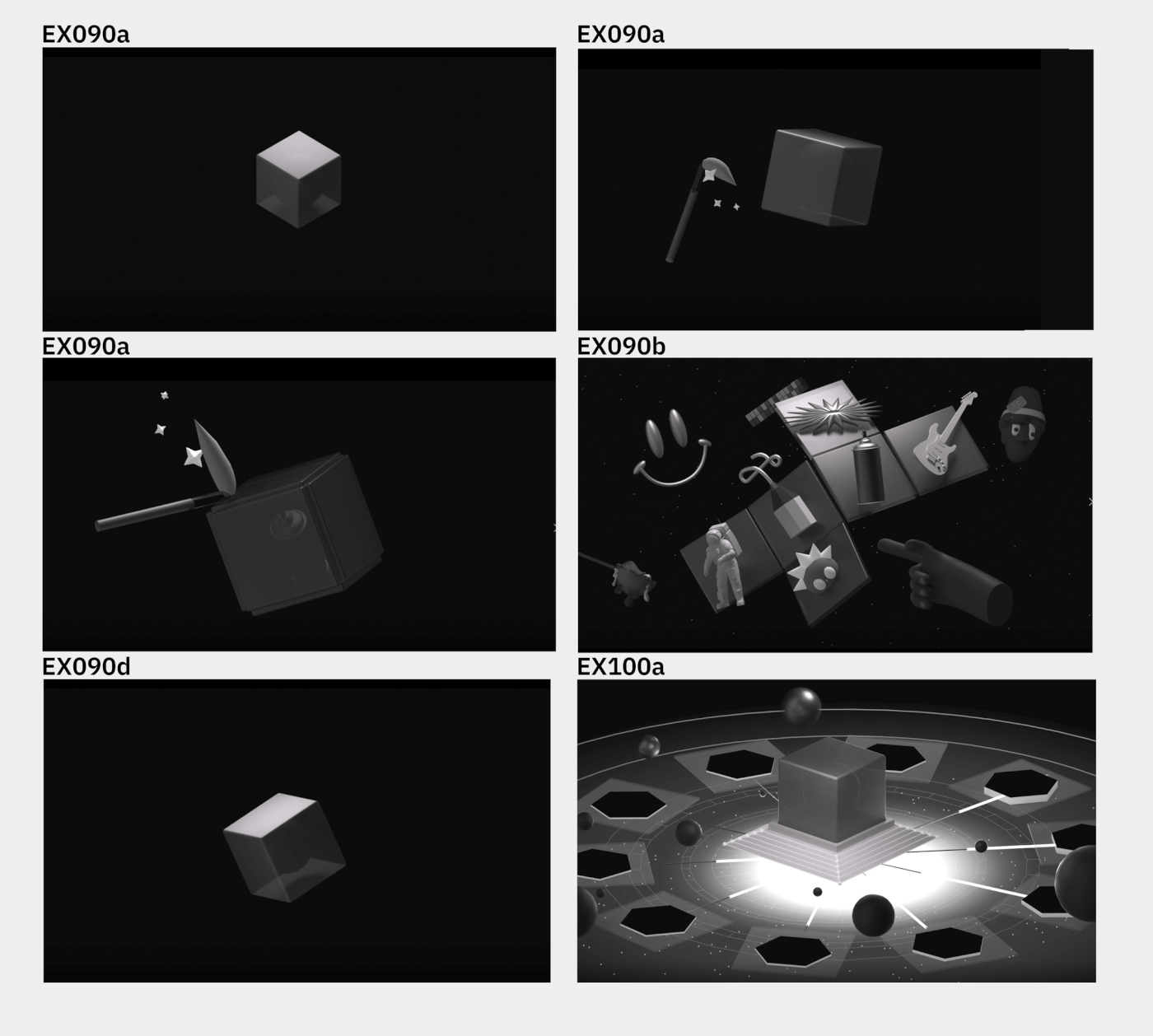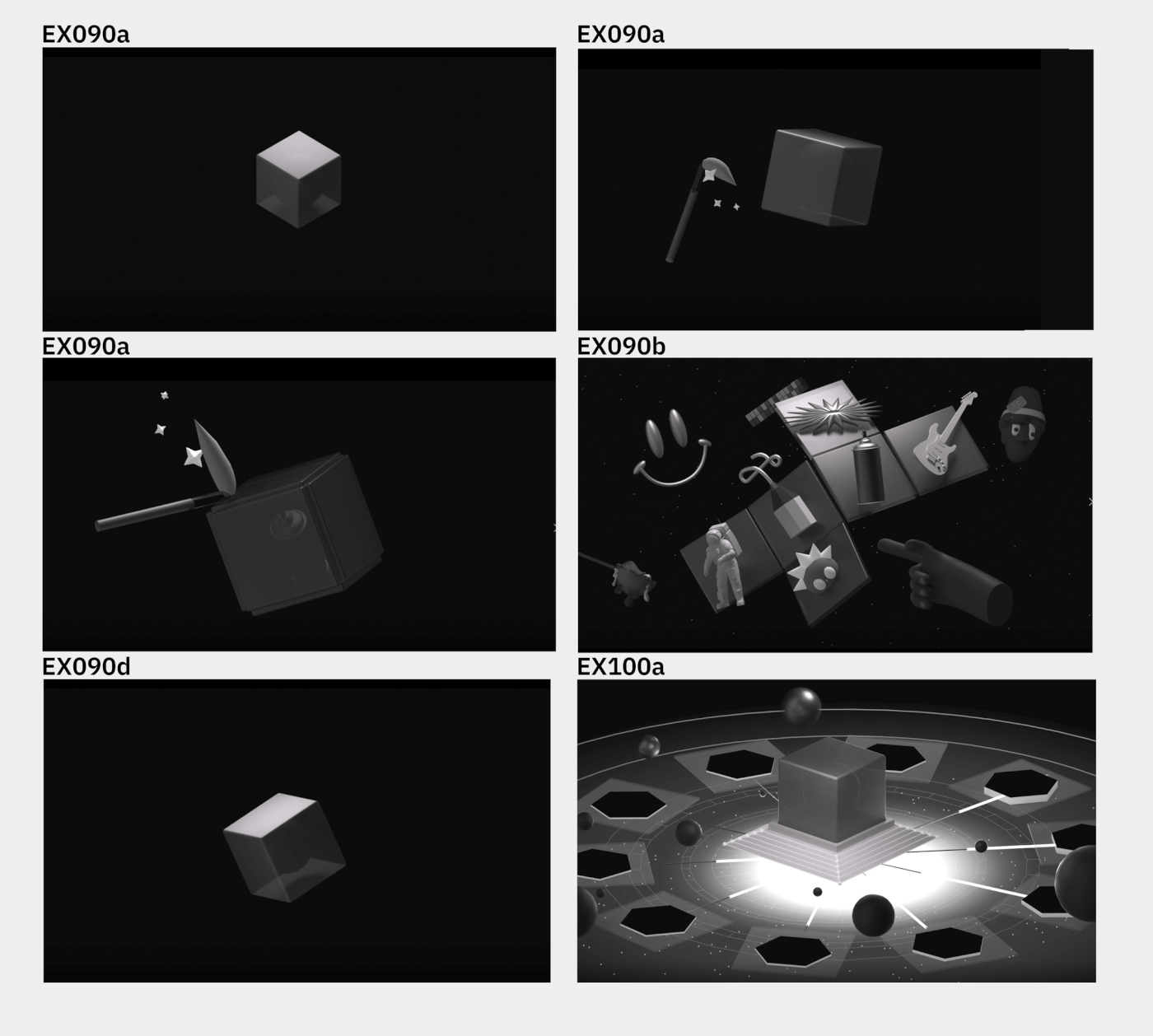 TRANSITIONS
As we had decided to replace some 2D frames with 3D ones (some with completely different content from the original storyboards and design) mid way, I had to figure out how to fill in the gaps to ensure the frames transitioned seamlessly from one another while still expressing the same sentiment.
MATERIALS + DESIGN
I realized that one of the shots we had originally created in 3D wasn't working as well as I would've liked after seeing it animated and timed with VO - It did not convey the message I was trying to communicate so I decided to redo it at the last minute by sketching out some ideas for our 3D artist to model + animate.
(Sorry + Thank you Lenar!)
CEL ANIMATION
This was one of the shots that I really wanted improved from our proposed final. We had not initially planned for cel animation, but I believed that that would really push the piece to look more polished. Shout out to Kory for figuring out how to do this in our Darkblock style and doing justice to the design!
Here you can see how storyboards became the design frames and how the shots had to be organized and labelled clearly for animators to refer to and to know which points were 2D/3D/hybrid so they could work together to figure out the best way to composite connect shots together.
Editorial and website illustrations done for Darkblock's Medium articles. Some of these elements were repurposed in the Darkblock explainer to connect them and keep the branding consistent.
Client: Darkblock

Production: Black Math
​
​
EXPLAINER VIDEO

Creative Direction: Jeremy Sahlman, Adabelle Tan

Art Direction: Adabelle Tan
​
Animation Direction: Adabelle Tan, Steve Madden
​
Producer: Nickey Georgallas
​
Storyboards: Adabelle Tan
​
2D Design: Adabelle Tan, Kevin Chiu
​
2D Animation: Pavelas Laptevas (Lead), Steve Madden, Kory Demers, Cathy Lin (Support)
3D Design: Omid Seraj, Louie Jannetty, Amr Seoudi (Support)
​
3D Animation: Lenar Singatullov (Lead), Omid Seraj, Lyon Graulty

Edit: Steve Madden, Noah Canavan, Zaim Jordan (Support)

Music & Sound: Kevin Laba
​
Audio Engineer: Billy Wirasnik
​
Voice Talent: Sarah Ginsburg


EDITORIAL ILLUSTRATIONS
Art Direction + Design: Adabelle Tan
​
Animation: TJ Sochor


​

© Black Math